Fusilli con gamberi e melanzane – September 8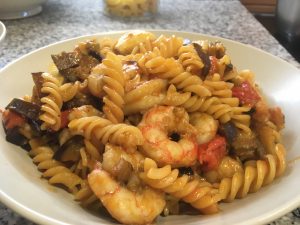 Cooking, being an inexact science, sometimes surprises and sometimes disappoints. It reminds one of musical improv or other strange mixings where sometimes, you can follow the instructions and end up with an inferior product, and sometimes, it all just works. If yesterday was the former, today was the latter.
An adaptation of this. I'm intrigued by seafood and eggplant dishes, so expect another similar dish to follow, perhaps with mussels. It's a very southern combo, quite different to the cucina veneta that I know best.
I think one thing that made a difference is that I salted the eggplant for much longer than I intended. I sliced thin, then cubed. I also scored some wine, really the remains of a bottle of 13% American chardonnay and thus not suitable for drinking, but perfect for the magic that cooking with alcohol seems to bring. (My brother, who makes me look like the amateur that I am, is more aware of the chemical reactions involved.) I also washed and dried (as best I could) the slices before cubing.
While this was going on I was thawed my Italian branded, but Thai-caught shrimp.
Sautéed one large garlic clove, added the eggplants, let them get soft, added a good dash of the wine. Put on the pasta water to boil.
Once the eggplant were soft, I added another can of these magic Victoria cherry tomatoes. (Not having the polpa that the recipe called for.)
I am lucky enough to have fresh basil growing outside (yes, war zone herb garden), so I topped with that, frozen parsley and dried oregano.
Mixed well with a dash of the pasta water and let it evaporate.
It came out smashingly. I'm surprised I was able to control myself enough to save some for later. I had a healthy appetite thanks to this morning's 10K — although war zone running is perhaps best left for another blog.
Now, off to the PX to see if they've resolved their shipment issues. If nothing else, I need some more canned tomatoes.
I invite readers to send in ideas for okra.