Two dishes today. One is a variation on the previously-posted risotto-in-a-bag dish. It was "Mexican night" at the cafeteria Wednesday and I was generously given by the server a large quantity of cooked shrimp, presumably for use in shrimp tacos. Having lived not too far from the Sea of Cortez recently, I can't imagine why anyone would turn down a shrimp taco, but it suited my purposes well. Not a lot to write about in terms of cooking.
Pasta gorgonzola e noci, November 11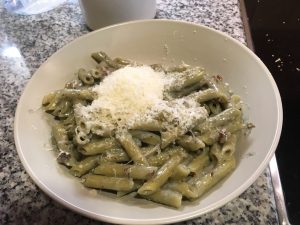 What better way to celebrate the 100th anniversary of the end of the Great War than with a typically Alpine northern Italian dish? This dish comes not from the old battlegrounds of Caporetto and the Piave but from further west, in Piedmont and of course Lombardy, where one remembers that Gorgonzola has its own stop on the Milan metro. This dish is a sort of variation on that old standby that got my wife and I through our impecunious post-student years.
How to do this one: the cafeteria has passable crumbled bleu cheese daily, so I grabbed a couple of containers of that and a container of shelled walnuts (known in Italian as ghergli di noci). I basically followed this recipe from Giallo Zafferano with a few modifications.
Finely diced the nuts, or ghergli thereof.
Put on the water to boil, salted it.
Substituted a bit of whole milk for cream, let it heat and added the cheese. Let the cheese melt and added pepper and a dash of these herbs de provence (which appear to be mainly thyme). Stirred.
Put in the penne (no trofie here).
Took pasta out a minute early from water, strained pasta and added it to the mix. Added the finely chopped nuts. Let all the moisture cook off, stirring rapidly to prevent sticking.
Stirred well and topped with parmigiano reggiano, pricey ($10) at the PX.
It wasn't gorgonzola, needless to say, but it was passable. Sweeter, stickier, not as creamy, but plenty ok for conflict zone cooking. (A colleague who knows war zones well has corrected my use of the term.)  I used lactose-free milk, which maybe have contributed to the sweetness.
Sometime back, I promised to do a literary lunches series, and mainly failed in that regard. Let me try to amend that almost three years later with a quote from a writer who loved the north of Italy.
—Have you a cheese sandwich?
—Yes, sir.
Like a few olives too if they had them. Italian I prefer. Good glass of burgundy take away that. Lubricate. A nice salad, cool as a cucumber, Tom Kernan can dress. Puts gusto into it. Pure olive oil. Milly served me that cutlet with a sprig of parsley. Take one Spanish onion. God made food, the devil the cooks. Devilled crab.
—Wife well?
—Quite well, thanks … A cheese sandwich, then. Gorgonzola, have you?
—Yes, sir.
Keeping in mind that nothing in any work by this author is an accident, let's consult his pre-eminent biographer for a gloss of what this meal means.
"Besides serving as a parable that life breeds corruption, Gorgonzola is probably chosen also because of Dante's adventures with the Gorgon in the Inferno IX. Bloom masters the monster by digesting her."
Reference here.
Next up: Brussels sprouts with bleu cheese, nuts, clarified butter and bread crumbs.